Katherine Heigl's Underwear Selfies Show Postbaby Weight Loss Takes Time
She looks amazing at any size.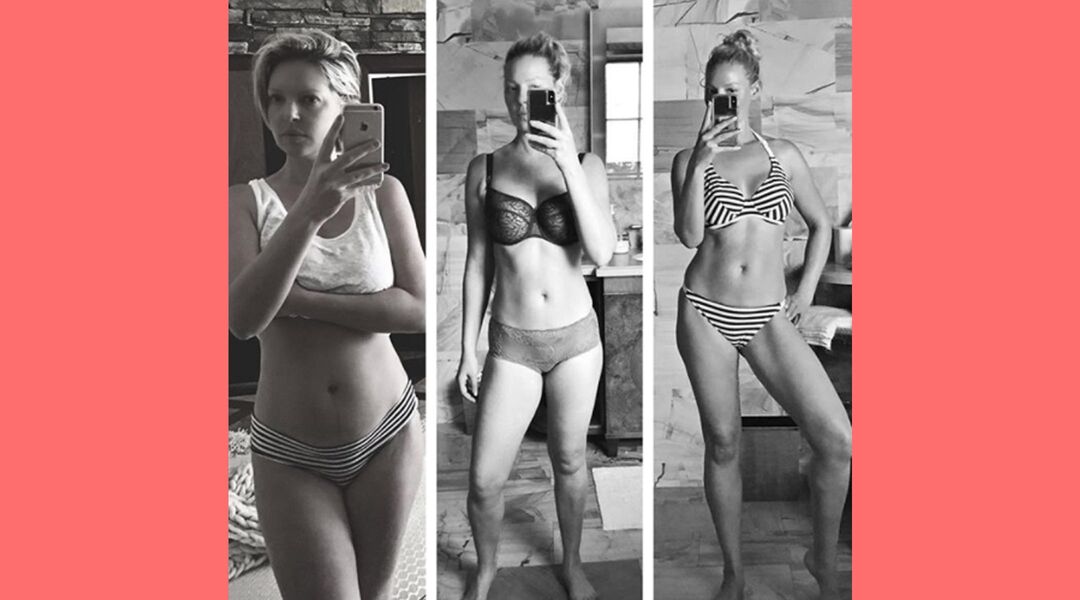 Instagram is basically the go-to source for incredible body transformations (#NoFilter), but as we all know, they're not always as realistic to replicate as we would hope. Blake Lively said it best, "Turns out you can't lose the 61 lbs you gained during pregnancy by just scrolling through Instagram and wondering why you don't look like all the bikini models." Since we can't all be Sarah Stage, we're always on the hunt for celebrity moms keeping it real when it comes to postpartum weight loss. Cue Katherine Heigl.
The 39-year-old actress recently shared a post on her Instagram chronicling her postpartum weight loss over the course of 14 months. Although we want to point out that she looks absolutely stunning at every stage, she credits "a beach vacation coming up, a new job I start filming in April and my deep desire to feel fit, strong and sexy" as her inspiration to lose some serious lbs.
Heigl is quick to point out that she was in no rush to lose weight, and wanted to do it on her own terms. "I am so grateful I've had a full year to find those ab muscles and get my butt back up where it belongs and wasn't forced by work to snap back into shape," she says. "But it is time to make the strength, fitness and overall health of my body a priority."
For those of you assuming Heigl had an army of personal trainers and dieticians at her disposal, think again. She credits the Sweat app (yet, you read that right—an app), as the no. 1 catalyst of her fitness journey. She also calls out mommy-blogger Rach Parcell as her inspiration for using the Sweat app and the workout program it promotes.
So thanks, Katherine Heigl, for putting another app download on our to do list. We just might fit into the oldest of those 27 Dresses.
Article removed.