7 Postpartum Foods and Drinks Around the World
Globe-trot to see the postnatal foods fellow moms are eating.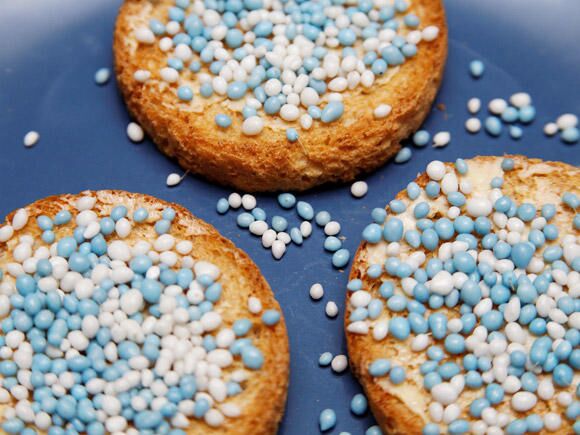 Turkey
Lohusa Şerbeti
Doing double-duty, this red drink is first served to moms while they're still in the hospital in the hopes of boosting milk production. Later, the sweet cinnamon- and clove-spiced beverage is served to guests visiting the new mom at home.
Japan
Sekihan
This traditional dish is a staple at any special occasion in Japan, so it's a popular choice for celebrating the arrival of baby. Made with sweet or "sticky" rice and cooked with adzuki beans, the meal has a festive red color.
Netherlands
Beschuit met Muisjes
In Holland, everyone from royalty to regular folk celebrate the birth of baby by nibbling on "biscuits with mice." A symbol of fertility, the "mice" on these biscuits are actually sugar-covered aniseed, which is believed to help new moms with lactation, digestion and postnatal cramping. And to really top off this sweet treat, the seeds are colored blue and white for boys, pink and white for girls, and orange for royal births.
South Korea
Miyeok Guk
New moms believe this restorative seaweed soup is packed with nutrients to help restore their health. So they often eat the calcium-rich blend not just as their first postpartum meal, but for the next few days or even weeks.
Lebanon
Ainar Spiced Tea
You may have seen Ainar spiced tea marketed as "postpregnancy tea" in stores, but like Turkey's Lohusa Şerbeti, both new moms and house guests drink it to celebrate baby. Assorted spices, sugar and nuts give the tea a sweet kick, and the aniseed is supposed to soothe moms and help their bodies recover. Intrigued? Try Sasha Martin's recipe on Global Table Adventure.
China
Red Eggs
Already the universal symbol for fertility and life, eggs are hard-boiled and dyed red for a one-month celebration for baby. The traditional color of China and used in other milestone celebrations, red is associated with happiness and good luck.
Image: Getty Images
Egypt
Moghat
During the sebou (a celebration that takes place one week after baby is born), mother and guests drink this hot, thick concoction made of hot water, sugar and a premade herbal powder, which Egyptians believe encourages milk production in breastfeeding mothers.
Please note: The Bump and the materials and information it contains are not intended to, and do not constitute, medical or other health advice or diagnosis and should not be used as such. You should always consult with a qualified physician or health professional about your specific circumstances.
Sign up for weekly updates to help you on the road to parenthood!