13 slides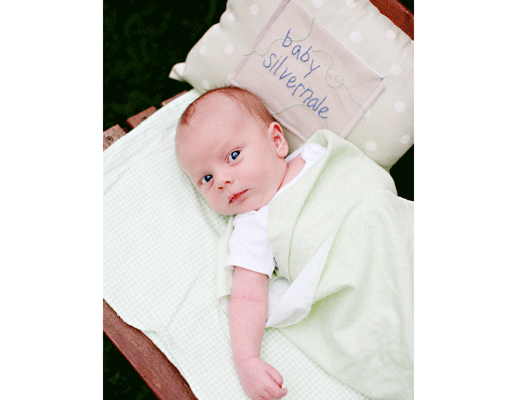 Kylie McConville
13 Amazing Newborn Photo Ideas
Mid-Yawn Baby
This sweet, candid shot is a beautiful reminder of baby's first (sleepy) weeks.
The Sibling Shot
Don't forget to shoot baby with her big sister or brother. We love that, in this shot, baby's big sister is supporting her — and they're both wide-eyed for the camera!
Baby With a Keepsake
You know all those personalized gifts you're getting? They make meaningful props.
Au Naturale
Forget about all the bells and whistles — sometimes, you don't need them. Something basic, plain and neutral works just as well, if not better!
Blanketed Baby
Who's snug as a bug in a rug? Uh, this baby is! (And looking adorable, to boot.)
Baby In a Basket
We know you'd never let baby sleep in just any wicker basket, but admit it, baby does look pretty cute here!
Dad and Baby
Have daddy pose with baby in his hands — isn't this shot powerful? Also, we're loving the gorgeous natural light in this photo!
In the Palm of Your Hand
Sometimes it's easy to forget just how small baby is (and was!) — this photographic reminder help you always remember!
Tiny Hands
Get some close-ups of baby's cutest features. We're loving the focus on baby's teeny, tiny fingers here. It's so simple yet classic!
Add Accessories
If baby was born in winter, add some mittens, a hat and maybe even some fake snow to your shoot. For the spring? A pretty floral hair bow. Accessories help set the scene.
Eyecatching Hat
Baby's newborn photo shoot is the perfect opportunity to put him in a ridiculous-yet-adorable outfit. How could you not love this homemade-looking owl hat?!
Baby's Feet
These little piggies are a sweet way to show off your newest addition!
Mom and Baby
Don't forget to capture some pictures of you and baby, mama! Years (and even months!) from now, you'll be glad you had these sweet shots taken with your quickly changing baby!
Plus, more from The Bump:
What Does Baby Look Like at ____ Months?