Keep track of everything you want to remember about baby's feedings — from what time it was, to how long she nursed on each side, to what kind of a mood she was in.
> Click the image below to download the pdf.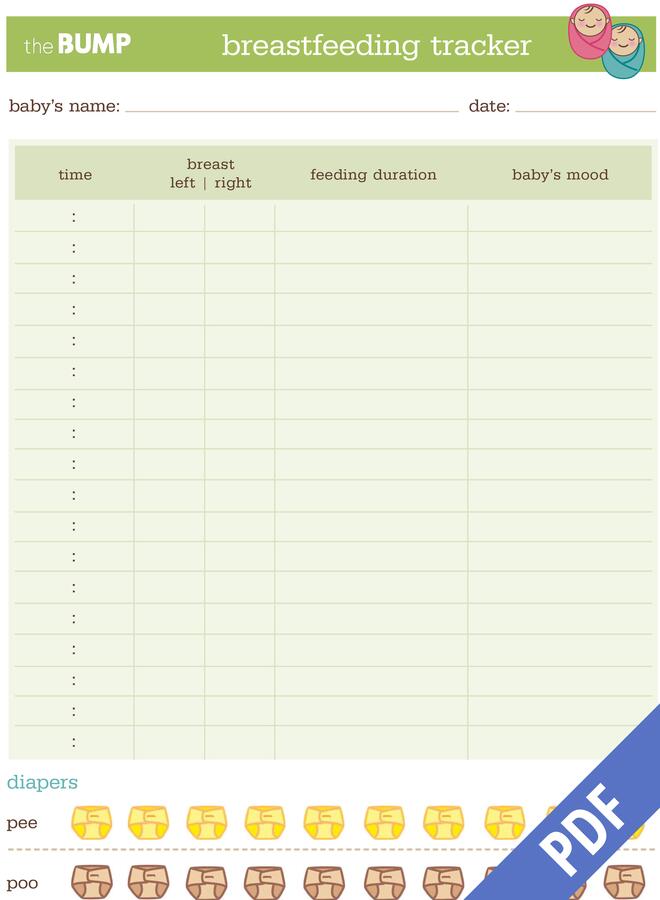 Feeling a little lost at this whole breastfeeding thing? You're not alone. If nobody's warned you yet, we'll let you in on a little secret: It isn't always easy and no, it doesn't always feel so natural. So if it's taking you and baby awhile to get the hang of things, don't sweat it. Here are a few tips that may just do the trick:
Having latching problems? Check your nipples — are they dry? If baby's in the right position but just can't seem to get a good latch, you may need to moisturize a little bit more. Try a lanolin-based cream in between feedings and see if that helps.
Are your nipples engorged? Try a minute or two of hand-expressing your milk before feedings — it softens your breast and gets the milk to start flowing more freely.
Got a low supply? Forget what you've heard about drinking more to up your supply. Incorporating some pumping sessions or trying to breastfeed baby more frequently can actually up your supply naturally over time.
Please note: The Bump and the materials and information it contains are not intended to, and do not constitute, medical or other health advice or diagnosis and should not be used as such. You should always consult with a qualified physician or health professional about your specific circumstances.
Was this article helpful?
Your Child's Age
Select your child's age in months to begin tracking their development.