Chrissy Teigen's Photo Has Moms Preaching Playground Safety
The AAP's stance on this topic may surprise you.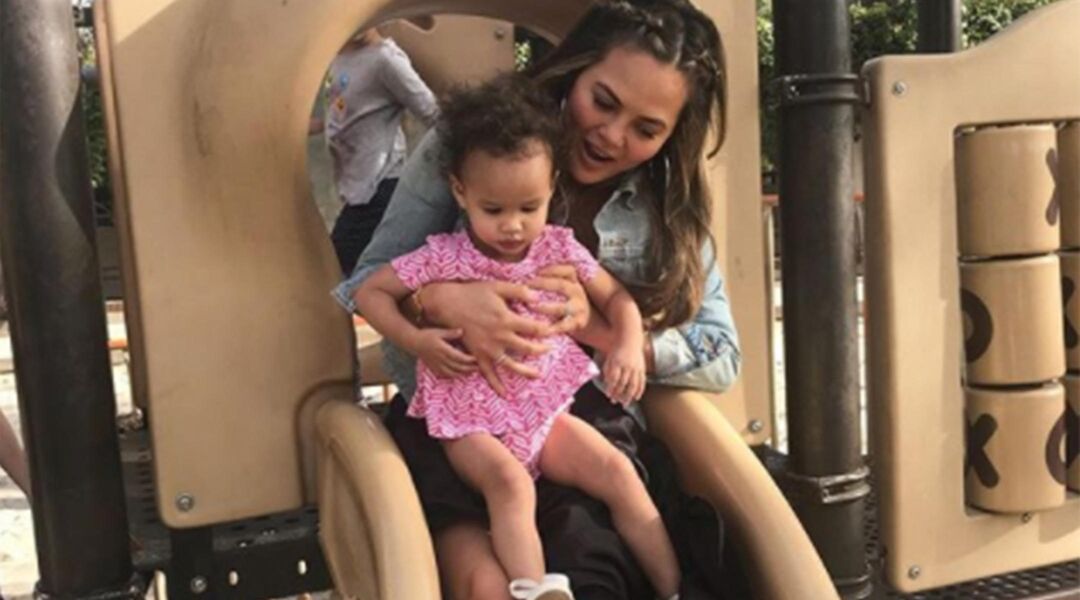 No stranger to mom shaming, there's a good chance Chrissy Teigen frankly doesn't care about the chastising comments on her recent Instagram at the playground with Luna. And while we're usually apt to side with her, this time, we have to report the AAP is on the side of her critics.
In the photo, Teigen is going down a playground slide with Luna, 21 months, on her lap.
You'll notice Luna's left leg is off to the side of Teigen's lap, resting between Teigen's leg and the side of the slide. And if you didn't, some of the commenters are quick to point it out for you:
"OMG this makes me cringe after seeing a friend go down the slide like this with their baby and seeing the baby's leg break!" one comment reads.
"It happened to me! 15-month-old on my lap down a slide…his right leg hit the side going down and gravity kept moving us downward," says another. "Broke his tibia. Honestly never knew it could happen. I even have a video of it. Terrible to see."
"It happened to my son and the pediatric orthopedic said he sees hundreds of his exact break each summer!" a third comment explains. "I was absolutely shocked. Definitely not something I ever thought about but I sure wish I knew before it happened."
And another commenter brings evidence to the table:
"The American Academy of Pediatrics has an article out about specifically sliding on laps. The weight of the person holding the child forces them down the slide and if the child's legs are in the wrong spot, then that's when the danger arises. My son's legs got caught between my sister's legs and the edge of the slide, and both of them twisted around, one completely backwards. It happened right in front of my face and I couldn't get over there fast enough and the damage was already done."
That last—rather graphic—comment brings up an excellent point. In September, the American Academy of Pediatrics presented findings from a 13-year study dedicated entirely to playground slides. After finding 352,698 children under age 6 were injured on slides, the AAP highlighted that toddlers 12 to 23 months have the highest percentage of injury—most commonly a lower leg fracture.
"Many parents and caregivers go down a slide with a young child on their lap without giving it a second thought," said Charles Jennissen, MD, Clinical Professor and Pediatric Emergency Medicine Staff Physician, University of Iowa Carver College of Medicine. "And in most cases I have seen, the parents had no idea that doing so could possibly give their child such a significant injury. They often say they would never have done it had they known."
Here's how it typically happens. A child's foot will catch the edge or bottom of the slide, and then twist and bend backward as they sit on mom or dad's lap. Jennissen says toddlers probably wouldn't be as severely injured if they caught a foot while sliding by themselves, but the force of an adult's weight can easily break a bone.
So while we understand if you want to roll your eyes at Teigen's haters, there's good reason to take this safety reminder into consideration. A toddler in a cast is no fun.
Please note: The Bump and the materials and information it contains are not intended to, and do not constitute, medical or other health advice or diagnosis and should not be used as such. You should always consult with a qualified physician or health professional about your specific circumstances.
Your Child's Age
Select your child's age in months to begin tracking their development.
Sign up for weekly updates to help you on the road to parenthood!
Article removed.