The Bump Editors
Your Pregnancy: Week 41
No, you're not the only one with a baby still in the belly: 50 percent of moms don't deliver before their due date, and you're not technically overdue until after week 42. Can you really blame baby for a little hesitation? As taxing as labor is for you, it's even tougher on the little one. During the journey out of the womb, baby will produce more stress hormones than any other time in her life.
Is natural labor induction dangerous?
Can't sleep comfortably?
What screenings will baby have?
See all third trimester Q&As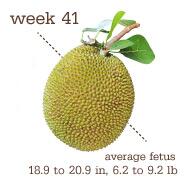 **
Baby's now the size of a jackfruit!
**This extra time in the womb means that when baby (finally) arrives, he'll be heavier and more alert than if he were born a little earlier. His hair and nails will keep on growing too.
To-do:
Schedule your weekly OB visit
Talk to your doctor about induction options
Go to your checklist
[tip]  Indulge in a good book and a long movie...you deserve the relaxation (and reward! You've made it past 40!). Take advantage of the rest while you can — lazy days on the couch will soon be just a dream.
Chat with other moms-to-be who share your due date
All medical information reviewed by Dr. Geeta K. Swamy, Duke University Medical Center OB/GYN Department