How to Make One Meal for the Whole Family
No more chaos in the kitchen! One mom shares how she learned to double-dip on the mealtime favorites both adults — and baby — would enjoy. By Amy Westervelt and Marisol Del Rio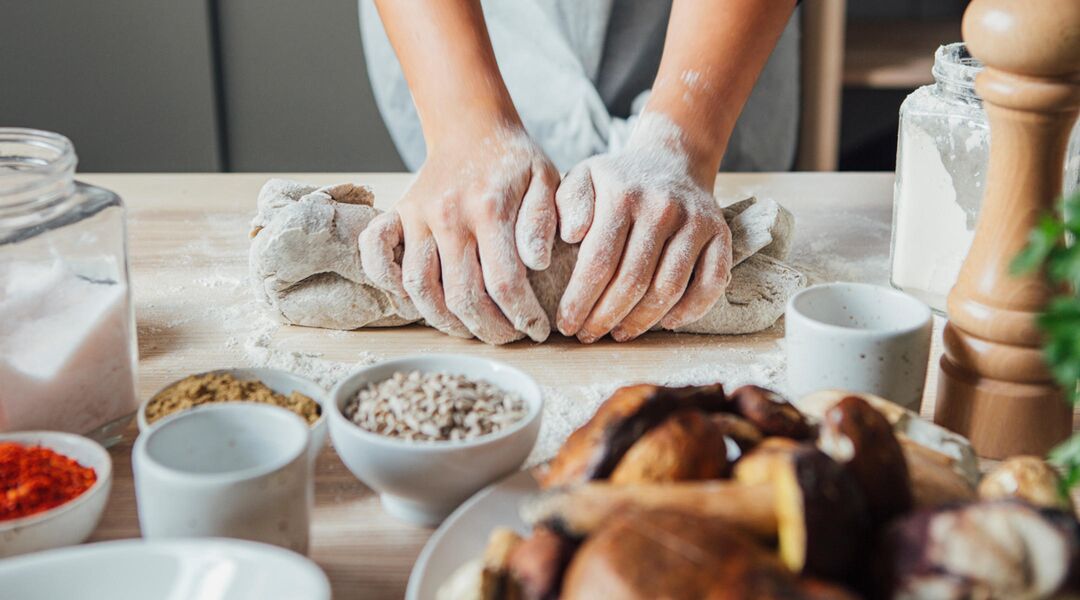 About a year ago, when my son Archie started eating solids, I was excited about introducing him to a whole new world of foods. I like to cook, and imagined hanging out with Archie as he experienced his first tastes of everything from apples to curry. But every book I found on cooking for kids assumed that things like taste and fun were irrelevant to babies and toddlers.
That seemed wrong-headed to me, so I scrapped the books and started making my own concoctions, eventually coming to the common-sense realization that with a few small modifications he could eat the same foods as us — right from the start.
Not only would that — hopefully — keep him from being one of those kids who only eats pasta and cheese, it would save me the time in the kitchen, and likely improve all our diets to boot!
After experimenting on my own for a while, I called up my chef pal Marisol and asked her advice on recipes that could do double-duty. Together, we came up with some simple tips for making the most of your of your meals — for mama, and baby.
Tip #1: Don't Be Afraid of Herbs and Spices
Pediatricians tend to discourage adding much, if any, salt or sugar to baby food. Why? "Going from breast milk, which has the least sweet of the sugars, to processed food with corn syrup or even stevia, it's possible that your child will always reach out for sweeter foods," says Dr. Jatinder Bhatia, Chief of Neonatology at Children's Hospital of Georgia and Georgia Regents University at Augusta University and past chair of the American Academy of Pediatrics Committee on Nutrition… "We really try to encourage people to make their own foods so we can address children's sugar and salt intake early on."
Cooking from scratch gives you control here. But that doesn't mean baby food has to be bland! Babies can handle all kinds of herbs and spices, and introducing them early on will make them more open to trying new tastes as they grow.
Not sure where to start? Try adding thyme to carrot purees, cinnamon to sweet potatoes or butternut squash, and curry or garlic to pureed kale or chard. Herbs and spices not only help keep things interesting for baby, but can also offer a health boost. "Ginger will help when they have a stomach bug," says Dr. Amy Maidenberg, pediatrician and owner of Sage Pediatrics in Oakland, Calif. "And garlic has known immune benefits. I tend to recommend using all the herbs and spices you can, in moderation. The more variety, the better."
Tip #2: Maximize Your Options
No time to hit the grocery store? No worries. Don't fret about cilantro when parsley will do just fine. Just because a recipe calls for a certain ingredient, doesn't mean you must use it. Many fruits and vegetables have multiple varieties — and most have easy swaps, in terms of taste and health benefits.
So use what works, depending on the season, what's in the fridge and what baby (and you, of course) love to eat.
Remember: you can cook the same recipe any number of different ways. If a recipe calls for sweet potatoes, but it's squash season, for example, try substituting butternut. Similarly, if your baby doesn't seem to like one particular type of sweet potato, try others (purple-skinned sweet potatoes tend to be starchier and less sweet, while the orange-red skinned varieties tend to be sweeter). Texture and flavor can vary wildly between different varietals of the same fruit or vegetable, and those changes can make the difference between a puree your baby loves and one he or she spits out every time.
Whichever fruits and veggies your family likes, keep an assortment of them on hand. I like to roast a pan of mixed vegetables every week – handy for easy purees and salads. Keep a couple of baskets of berries around to grab for a snack or puree for a healthy addition to yogurt or oatmeal.
Also, stocking the pantry with easy go-tos makes life simpler on busy weekdays. Make and freeze chicken stock – or stash some of your favorite by your favorite low-sodium organic brand – for easy sauces. Keep a variety of whole grains and pastas on hand for quick fixes. Learn what works best for your clan, then keep those go-to staples within easy reach.
Tip #4: Sneak Veggies in Everywhere
Even the best little eater will suddenly decide at some point that they don't like this or that. The smart-mom solution? Learn how to sneak in veggies wherever you can. Mix chard and kale into the dough for homemade veggie pasta, blend greens with apple juice for a super-healthy and tasty smoothie, mold veggie mashes into balls or small patties that can be flash fried in olive oil and easily grabbed by chubby little hands.
Tip #5: If You Eat Meat, They Eat Meat
If you're not a vegetarian, and you plan on serving your child meat at some point, it's a good idea to start early. "I'm a big fan of iron-rich foods early on, so I recommend sardines or liver as one of the first five foods my patients try, unless they're vegetarian," Dr. Maidenberg says. Concerned about baby's ability to chew and swallow meat? Go for easy-to-puree options and gradually work your way up as baby gets more teeth.
Tip #6: Help Them Help You
As early as 9 months, most babies want to start feeding themselves. And once that urge kicks in, don't fight it, embrace it! But forget spoon-feeding — finger foods are where it's at. Luckily, many of the foods you've given them early on can be transformed into handy snackers with a little ingenuity. Pureed carrots easily transform into bite-sized munchies, and apple sauce converts to sturdier slices when baby's ready.
The good news: the more things baby can feed himself, the longer he'll be willing to sit in a highchair or booster seat. The added bonus? Many finger foods can come along in the car, too, without too much mess or fuss.
Plus, More from The Bump: