Mother's Day Gifts for the Mommy Who Needs a Break (and a Laugh!)
Check out Facebook.com/mommyhood for tons of e-gifts for all your Bumpie friends.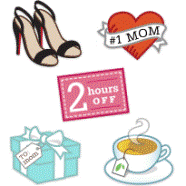 Mamas unite! It's your day. Here are 10 completely hilarious virtual gifts to pass along to your mommy friends. And yes, it's okay to give yourself a gift.
 Let's be honest: An extra set of hands would be great, but new mamas could use about_ five_.
 Your Bumpie bestie could use a night out. Help push her to actually get to that flick she's been dying to see.
 Helpful around the house and some _serious _eye candy.
 WHAT?! You think my emotions are out of control?!
 Nothing beats chocolate-chip pancakes paired with a marathon of The Real Housewives of New Jersey.
The days of eight-hour zzz's seem long gone.
They're sore, chapped and leaky. Right about now, a new pair of nips would make _everyone _happier. 
Ah, if only if it were this easy…