Keep track of baby's ibuprofen (Motrin or Advil) dosage with our easy to use chart, and you'll ease your worries and baby's aches and pains. But remember: The proper dosage is based on baby's weight, not age. Print this out for up-to-date info as baby grows.
Click the image below to download the chart.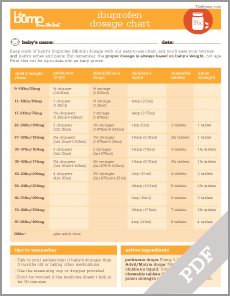 Please note: The Bump and the materials and information it contains are not intended to, and do not constitute, medical or other health advice or diagnosis and should not be used as such. You should always consult with a qualified physician or health professional about your specific circumstances.
Your Child's Age
Select your child's age in months to begin tracking their development.