The Story Behind This Batman Cake Smash Will Surprise You
Not all heroes wear capes.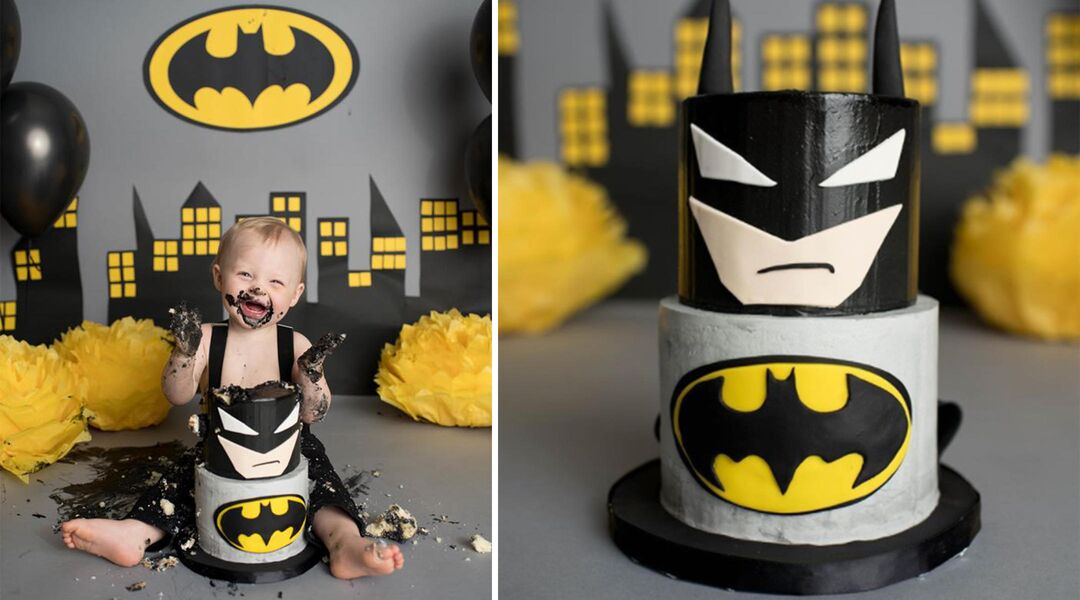 While we're partial to the newer first birthday food smash trend, we're not going to turn our noses up at a perfectly good cake smash. Especially not when Gotham is at stake. Kase McCoy Batman—yes, that is his real surname—celebrated his first birthday with a Batman-themed cake smash.
For the Batman family, almost every special occassion involves some sort of nod to the superhero. Prior to Kase's first birthday, it was his gender reveal.
"When we found out we were pregnant with Kase, we had some of the best name suggestions given to us: Bruce Wayne Batman, Robin Anne Batman, Alfred Gotham Batman (just to name a few)," mom Emily Batman tells Love What Matters. "This entire shoot was inspired by our last name!"
"At first, he was super unsure about destroying the cake," Batman says. "He was more interested in looking at his hands covered in black icing. Once he got a little taste of that buttercream icing though, that's when he really put on a show for us!"
Photographer Leslie Page staged the whole shoot in the Batman family's living room. If the thought of doing a cake smash in your house sounds like too measy of an endeavor, know that Batman says it's not your house you should be worried about.
"What they don't tell you about doing a cake smash is you, as a parent, find icing in your hair later," she says. "I found a chunk of black icing in my hair when I went to wash my hair the next morning, completely unaware I had walked around the whole previous day with black icing in my blonde hair."
Sounds like she was just sporting some Batman colors to us! Happy birthday, Kase.
Article removed.