Beyond Cake Smashes: New Traditions for Your Child's First Birthday
We've gathered a few of our favorite first birthday traditions that are custom-built for future nostalgia.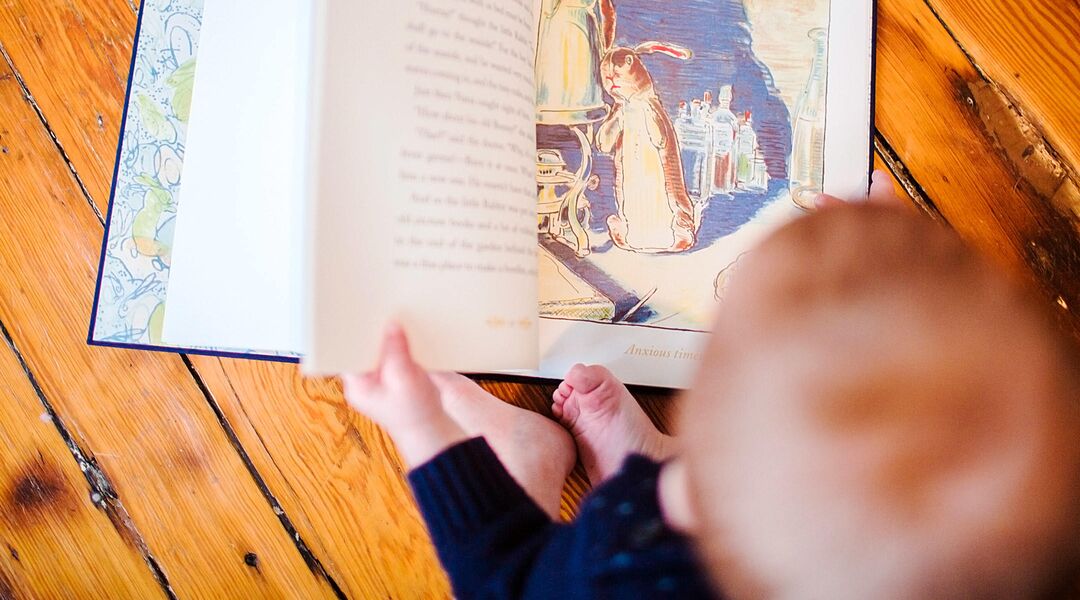 Your baby's first year is all about milestones: the first tooth, the first crawl, the first time sleeping through the night (hooray!). The greatest road marker on the way to toddler-hood, however, is the first birthday. Creating an event that will live on in your family's history is easier than ever—imagine all the photos, Boomerangs, Snaps and even live social media you could create. But how to make something both meaningful and timeless? Of course, few can resist the delightfully adorable cake smash route, but you don't need a full-on sugar high for an inspired addition or alternative. The best ideas have wonderful longevity. After all, you could probably get your kid to smash his face into a chocolate cake for a few years in row, but once hitting seven or eight? You'll hear "Mom, please," with the addition of an eye-roll. To help you on your way, we gathered a few of our favorite new first birthday traditions that are custom built for future nostalgia. They'll provide plenty of opportunities for taking photos, perhaps even those your eventual teenager may cherish one day.
As you're about to discover, kids love parties. Why not add a dose of learning to the fun? Gift your child a special book that you present early in the day. At the party, leave the book open on an entry table, as Jennifer from Baby Making Machine suggests, and request guests to participate by writing special messages inside. It's a tradition you can continue each year, all the while adding great titles to your home library. Shaunna Evans of Fantastic Fun and Learning adds this tip: "I typically try to find a book that relates to one of their current interests (and the birthday party theme). I try to buy good quality books that they will want to keep even after childhood to share with their own kids."
Dr. Seuss books are easy favorites for their familiarity and fun illustrations. For example, Jennifer of Baby Making Machine built an entire first birthday party around Oh the Places You'll Go. But don't discount more modern authors. Mo Willems' Elephant and Piggie series has charming storylines and illustrations, not to mention plenty of white space for guests to sign. The Pout-Pout Fish series is another winner and each book (the latest is The Pout-Pout Fish Far, Far Away From Home, available April 4) introduces plenty of characters (such as Ms. Clam, Ms. Shimmer and Mr. Eight) for guests to identify with (perhaps via speech bubble?) as they leave their messages.
Let Out That Inner Artist
We may be inundated with photos and imagery every day, but leave it to raising babies to remind us how much fun it is to get our hands dirty. Christine of Where the Smiles Have Been has this brilliant idea: Create one-of-a-kind birthday art every year. Gather an assortment of non toxic paints, a brush or two, a white canvas and some newspaper or plastic sheeting to protect against spills. Then, cut out letters in construction paper to spell out the age ("one" in this instance) and glue them on the canvas as a starting point. (Or there's this short-on-time hack: Buy indoor-outdoor vinyl stick-on letters instead.) If you want to control the amount of paint flying around, feel free to throw in a few cutout animals or shapes into the mix for a collage feel. Not only does the activity create memories, but the finished canvas will serve as colorful décor. You'll want to save room on the wall for numbers two and three and four!
Green thumbs, this is your moment. Instill an early passion for nature in your child by planting a tree on her first birthday. The tree and your little one will grow up together and the side-by-side setting is quite the scenic photo op. Even winter birthdays can participate: Choose a smaller plant or shrub varietal that you can house indoors during the colder months and properly plant outdoors when the weather warms up (a smart idea for celebrating half birthdays). Also, if you're short on outdoor real estate or don't have a yard at all, you can make your own version with indoor plants. Something as simple (and non poisonous) as an aloe plant can be just as fun as an outdoor evergreen. (If you're stumped for indoor plant types, this list at mom.me has some gems.) But if you're blessed in the outdoor yard department, there are little things you can do to make the event special. MeaningfulMama.com writer Jodi Durr added this thoughtful twist for her kids: "We have tried to match up the bloom with their birthday."
No, not that "birthday suit!" Rather, why not start a new tradition around what your baby is wearing on his or her big day? With all the Internet stories of families taking the same picture 40 years in a row, we were inspired by this spinoff: Dress your tot in, say, a red dress or shirt for winter or white for summer like Elizabeth from Orlando Mom's Blog. Before long, you'll have a striking way to see how your child has changed over the years. (Bonus: It's also a genius idea for holiday photos if you're the type to send photo Christmas cards every year.)