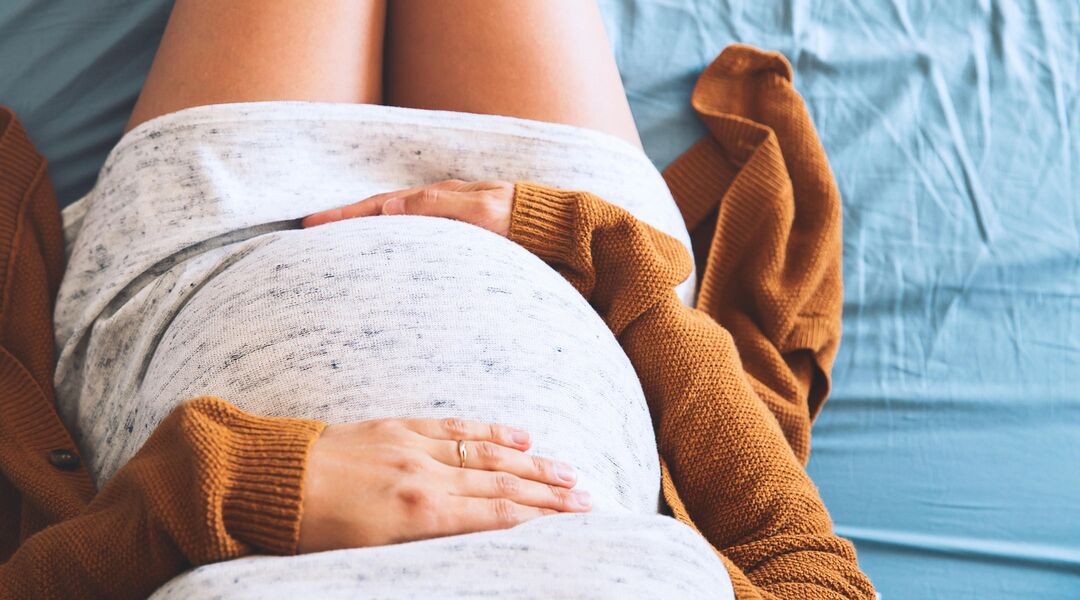 Mallory Fitzsimmons
Waiting to Find Out the Gender? Check Out These Tips for Outfitting Baby
One mom shares her ideas for planning a gender surprise.
The Bump and Dreft purtouch present Gentle Touch, a sponsored series with tips for treating newborn skin and clothes with tender, loving care. To learn more about why plant-based detergent is a gentle choice, visit Dreft.com.
With her life and style blog Style Your Senses, Mallory Fitzsimmons' main goal is to help women find their confidence through affordable and relatable fashion. She's "mommy" to two young girls and calls Charlotte, North Carolina home.
The minute I found out I was pregnant (each time), I immediately began counting down until I could find out baby's gender. Truthfully, I would have been happy with either a boy or a girl, but finding out suddenly made everything feel so real to me. I could begin thinking of names, planning the nursery and buying little clothes to hang neatly in the closet. It seems lately, though, I'm definitely in the minority. Most of my friends are waiting to be surprised in the delivery room with the big announcement.
Thankfully, there are plenty of options for cute gender-neutral clothes. Brands make darling pieces that don't scream either "boy" or "girl," and the washability of these more versatile and comfy items make them perfect for baby's everyday activities. Plus, once baby is born, you can easily add a small pink bow or pair the outfit with a more gender-specific blanket.
Here are some more of my favorite tips for how to prepare baby's wardrobe:
Having the right clothing to make baby comfortable is key. Stock up on essentials like one-pieces, footed pajamas and sleeper gowns before baby arrives. Bodysuits are great to have on hand to wear under swaddles or paired with little lounge pants. Sleeper gowns are awesome for newborns (they make the countless diaper changes a lot easier), and footed pajamas keep baby cozy during the colder months.
Newborn and 0 to 3 month clothes are the most commonly gifted, so you're likely to accumulate a lot of these sizes, but have too few of the larger sizes. I like to make sure baby also has something to wear for after the first three months, when they might not have as many clothes to choose from—because we all know how fast baby will grow.
I like to prewash the clothing in Dreft purtouch. If you end up having a baby with sensitive skin (like my little one), you'll discover the importance of prewashing. Processing chemicals and extra dyes used during the production of clothing, as well as unseen dirt, can irritate baby's fresh, new skin and it's really important to launder new clothing before wear. Dreft purtouch is a 65 percent plant-based baby detergent that's gentle on baby's skin, but also helps remove 99 percent of baby food stains.
If you're waiting to find out the gender, why not surprise yourselves with a personalized gift? My neighbors decided not to find out their baby's gender before birth, but really wanted a few customized items to have at the hospital, so they enlisted my help. At their 32-week ultrasound, they had the doctor write down the baby's gender, place it in an envelope and seal it up. They then found an Etsy shop that sold personalized blankets and baby clothes and asked if the owner would be on board for a secret project. When she replied yes, they took the sealed envelope and mailed it to her, along with their choices for a boy and girl name. This way, she was able to create the pieces for the appropriate gender without the couple knowing. Once done, she mailed it to me, and my job was to prewash the pieces and keep quiet with my big secret. I washed everything in Dreft purtouch, sealed it back up and delivered it across the street, where it went right into their hospital bag. When baby boy was born, he had lots of personalized goodies to take his first photos in.
Photo: Natalia Deriabina/iStock