Irish Baby Names We Love
It's no wonder Gaelic-inspired baby names are hot right now! There are a lot of really great ones. Here are a few of our favorites.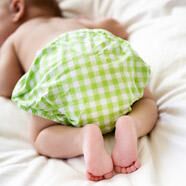 *Aiden
* This name is really classic and popular — it's been one of the top 20 boys' names on the Social Security Administration's list since 2008. We love that it has different spellings so you can really make baby's name stand out: Aaden, Aidan and Aayden.
*Bradan
* If you like the name Brendan but want to try something else, why not go for Bradan?
*Ciaran
* You can spell this one with a "C" or a "K," so take your pick!
*Declan
* We love that this boys' name means "full of goodness."
*Liam
* A form of William, the name Liam means "strong-willed warrior."
*Niall
* It's pronounced "nigh-uhl" by most people (although some say it as "neil"). It means "champion." Need we say more?
*Brigid
* We love this new take on Bridget — it's unique!
*Rory
* Whether your baby is a boy or a girl, this name still works. Plus, it reminds us of the awesome show Gilmore Girls.
*Deirdre
* This Irish baby name is as traditional as it gets. But beware! It means "she who chatters" — you might end up with a talkative baby.
*Flannery
* For those who are obsessed with all things literary, Flannery is a good pick. It reminds us of famous author Flannery O'Connor.
*Keira
* Like a lot of Irish names, this girls' name has numerous spellings. And if you're a fan of Keira Knightley, it's perfect!
*Saoirse
* Pronounced "seer-sha," this name is for adventurous parents looking for something really different.
*Siobhan
* Siobhan (pronounced "shiv-awn") is also another classic moniker — it's the Irish form of Joan.
*Callahan
* If you're looking for something a little more original than Collin and Connor, Callahan might just be for you. It translates to mean "little bright-headed one," so get ready for straight As!
*Maeve
* You're all going to love the meaning behind this moniker! Maeve translates to "the cause of great joy" — and no one knows that feeling better than a parent.
Donovan
We know this name is most commonly known as a surname, but using it as a first name is a creative way to break from tradition. Not to mention, it's pretty cute too!
Keeva
It's pronounced "key-va" and in 2013, it was the twelfth most popular name for Ireland for baby girls. And when it's translated to English, Keeva means "gentle, beautiful, precious." Aw!
Benen
Not quite in love with the nickname "Ben" but don't totally love the name "Benjamin" either? Why not go for Benen? It's a happy mix of the two names and it means "kind."
Ena
This Celtic moniker is super popular in Ireland. It means "passionate" and "fiery," so get ready for an outspoken, fiesty little girl!
*Shane
* This Irish name means "God is gracious," and it's the perfect name for a baby boy — or girl.
Plus, more from The Bump: