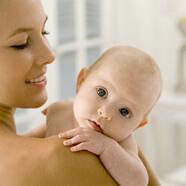 Top 10 Beauty Buys For New Moms
Kiss that tired new-mom look good-bye with help from these mommy-approved products.
That just-rolled-out-of-bed look may have been cute in college but when you're a new mom? Not so much. Sure, there are some things you can't entirely avoid in those first few months with baby — like the endless hours of sleep exhaustion, your changing skin, or the fact that showering has become an all-too-distant memory. But there are definitely ways to get through that crazy newborn phase and still look like your old self. (We promise.) Read on as moms who've been there (and some of our favorite bloggers) spill their favorite new mom beauty fixes.
Mom favorite #1: Garnier Nutritioniste Skin Renew Anti-Puff eye roller
Why it works: "After a sleepless night, I still have to go out and face the world. I roll on the anti-puff solution, and it's amazing. I look like I actually got sleep!" –Heather from TheSpohrsAreMultiplying.com
What it will cost you: $13, Walgreens.com
Mom favorite #2: Up & Up Natural Glow Daily Moisturizer
Why it works: "Unlike most self-tanners, this one has a pleasant smell (which means I don't reek), an even coloring, and I don't have the cancer risks that lying out in the sun or in a tanning bed would have. Plus, I always say a little color takes off five pounds!" –Jennifer from The Foster Family
What it will cost you: $8 at your local Target
Mom favorite #3: Brazilian Blowout professional smoothing treatment
Why it works: "Beauty plus having five boys under seven years old is not a good combo! But I can wash and go and don't have to worry about my hair being frizzy, kinky, or curly! It's truly changed my life." –Jen from JensList.com
What it will cost you: from $300 at participating salons
Mom favorite #4: Bobbi Brown Shimmer Brick compact
Why it works: "You just swoop a brush over the compact (which contains five strips of complementary shades), swipe it over your cheeks, forehead, and chin…and presto! I actually look ALIVE!" –Ellen from LoveThatMax.Blogspot.com
What it will cost you: From $38, BobbiBrownCosmetics.com
Mom favorite #5: Clarisonic Sonic Skin Cleansing System
Why it works: "It keeps my pores cleaner than anything else I've tried, and you can use it with or without your favorite cleanser. There's a timer on it that beeps when it's time to move to a new area of your face and it keeps a charge for 30 days. It's a splurge, but it's awesome!" –Gabrielle from DesignMom.com
What it will cost you: $25 (for just the Clarisonic Gentle Hydro cleanser); from $149 (for the cleansing system), Clarisonic.com
Mom favorite #6: Benefit Sheer Cream Blusher in Hush!
Why it works: "I'm a pale-skinned redhead who looks like a polar bear in a snowstorm if I wear no makeup — so cream blush is my best friend. It gives me a hint of rosy glow, I can apply it in two seconds with my fingers, and a little goes a long way. You can even use in on your lips." –Abigail from DiaryofaNewMom.net
What it will cost you: $15, YesStyle.com
Mom favorite #7: Clinique Blushwear cream stick
Why it works: "Just a swipe and a rub across the cheeks and — miraculously — I look chipper and rosy for the day (even though I feel like a haggard mother who spent the entire day wearing spit-up.)" –Beth Anne from TheHeirtoBlair.com
What it will cost you: $19, Sephora.com
Mom favorite #8: Aveeno Positively Ageless Complete Anti-Aging System
Why it works: "After I had my second child, my skin changed. (Why, I'll never know.) But Aveeno's cleanser and lotions are gentle enough to exfoliate and provide needed moisture without irritating my complexion. I'm on the cusp of my late thirties and as happy with my skin as I was a decade ago." –Suzanne from MyMomGenes.com
What it will cost you: $35, Target.com
Mom favorite #9: Benefit Ooh La Lift eye cream
Why it works: "After you give birth, your belly is bloated, your boobs are swollen... The last thing a new mama needs is for her eyes to be puffy too! While I may have been running on pure adrenaline postdelivery, operating on about 20 minutes of sleep took its toll on my tired eyes. Thank goodness for this eye cream. A few dabs under the eyes not only reduced puffiness, but it made my eyes look bigger and brighter too." –Erica from SweetLeighMama.Blogspot.com
What it will cost you: $22, Sephora.com
Mom favorite #10: Astara Blue Flame Purification Mask
Why it works: "As a new mom, I cannot tell you how many times I just fell asleep without washing my face and applying night cream. This leads to blemishes (in my case anyway), which is how I got turned on to this mask. You just apply the mask directly on the zit before bed and POOF! When you wake up the blemish is gone. It's a miracle cure. And even though it's a bit pricey, it lasts forever." –Angela from MyMomGenes.com
What it will cost you: $41, Drugstore.com