The Bump Editors
Your Pregnancy: Week 15
Your gums may be red and swollen (thanks, hormones), so it's extra-important to take good care of your mouth right now. Brush often, floss gently, and see your dentist if you haven't already. Also, your now-cramped chest and abdomen (baby's growing fast!) might be making you a little short of breath.
TOOL: Kick count log
> Are your gums feeling funny?
What nonprescription meds are safe?
See all second trimester Q&As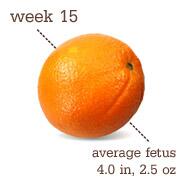 Baby's now the size of a naval orange!
Continuing the march toward normal proportions, baby's legs now out-measure his arms. And, finally, all four limbs have functional joints. Your fetus is squirming and wiggling like crazy down in the womb, though you probably can't feel the movements just yet.
**
To-do:**
Schedule amniocentesis
Schedule multiple marker screening
> Go to your checklist
[tip]  Foundation look funky? Pregnancy can change your skin tone. Treat yourself to a new shade and make sure it's got sunscreen.
Chat with other moms-to-be who share your due date
All medical information reviewed by Dr. Geeta K. Swamy, Duke University Medical Center OB/GYN Department