Crib Recall: 2.1 Million Stork Craft Cribs Recalled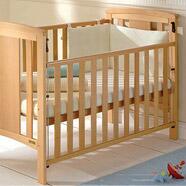 Stork Craft has just announced a crib recall on 2.1 million of its drop-side cribs in the U.S. and Canada, after the Consumer Product Safety Commission (CPSC) declared its faulty hardware to be the cause of multiple suffocation deaths. To date, over 110 instances of drop-side detachments have been reported — 67 in the U.S. and 43 in Canada. According to the CPSC:
"The cribs' drop-side plastic hardware can break, deform, or parts can become missing. In addition, the drop-side can be installed upside-down, which can result in broken or disengaged plastic parts. All of these problems can cause the drop-side to detach in one or more corners. When the drop-side detaches, it creates space between the drop-side and the crib mattress. The bodies of infants and toddlers can become entrapped in the space which can lead to suffocation. Complete detachment of drop-sides can lead to falls from the crib."
The crib recall, which is being dubbed the largest in U.S. history, applies to all Stork Craft cribs made between January 1993 and October 2009, as well as those with the Fisher-Price logo made between October 1997 and December 2004. If your family currently uses a Stork Craft drop-side crib, stop using it immediately, and please spread the word to anyone you know who may be using one.
> For additional info on the crib recall, you can contact Stork Craft toll-free at (877) 274-0277 anytime to order the free repair kit, or log on to www.storkcraft.com**.
Read more of the official statement from the CPSC.**
Make sure to keep up to date with the latest recalls on our Product Recalls message board.
Please note: The Bump and the materials and information it contains are not intended to, and do not constitute, medical or other health advice or diagnosis and should not be used as such. You should always consult with a qualified physician or health professional about your specific circumstances.
Was this article helpful?
Your Child's Age
Select your child's age in months to begin tracking their development.