Mom Leaves Baby Attached to Placenta for 5 Days in 'Lotus Birth'
"I think that the most reluctance stemmed from the fact that it was unfamiliar."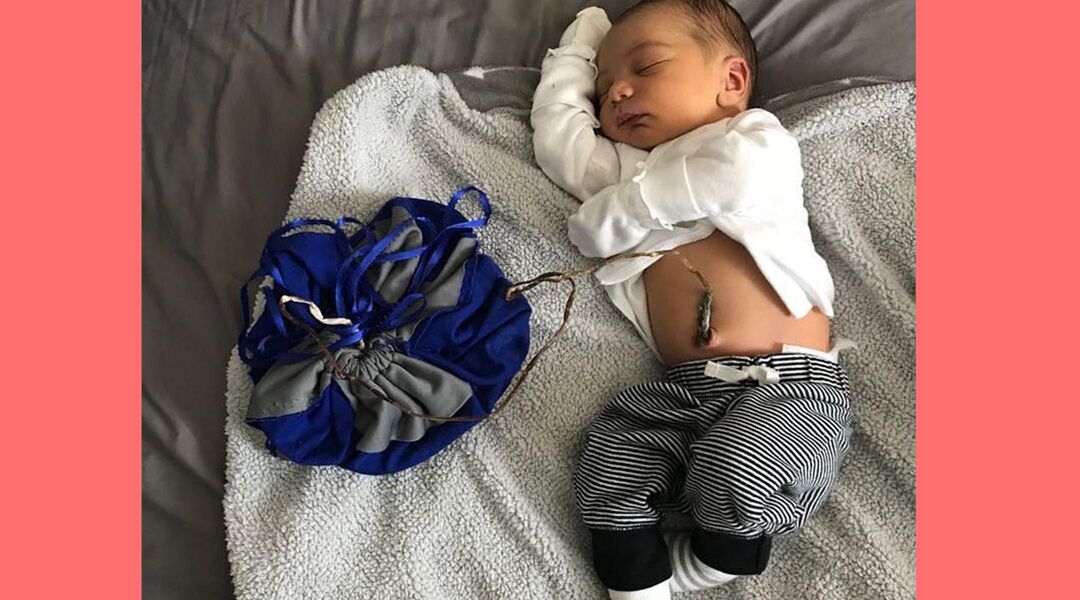 From a standard hospital delivery to a hypnobirth, the growing number of alternative birthing methods is proof that you can be in control of how baby enters the world, barring any complications. New mom Vanessa Fisher knows just how validating it feels when your unorthodox birth plan works out. In spite of objections from family and friends, she opted for a lotus birth, allowing her newborn son to separate from the placenta on his own time—five days.
"Lotus birth (or umbilical nonseverance) is the practice of leaving the umbilical cord uncut after childbirth so that the baby is left attached to the placenta until the cord naturally separates at the umbilicus, usually 3 to 10 days after birth," Fisher explains on Facebook. She adds that it makes baby's transition to the outside world more fluid, and that it "allows for the health benefits associated with complete placental blood transfer."
Writing for the site Love What Matters, Fisher explains while she planned to try for a lotus birth early on in her pregnancy, not everyone was on board.
""Interest in the lotus birth may have come about after my initial research on cord blood options," she says. "In the beginning my husband was surprised by the idea, but supportive, nonetheless. Other family members were not fond of the idea. I think that the most reluctance stemmed from the fact that it was unfamiliar. I didn't find anyone's objections valid enough to reconsider my decision."
Some of the objections were matters of practicality: How would she carry the baby? Was it even sanitary? Fisher says she couldn't find any legitimate studies backing claims of infection associated with lotus birth, so she pressed on.
"Whether the cord is cut or not, it detaches naturally. An old saying, 'If it ain't broke, don't fix it' comes to mind when I think of the lotus birth," she says. "In the days following his birth, Ashton's cord became very dry and brittle like a twig. On day five, the cord snapped. The placenta was separate, and a portion of the cord remained connected to the naval. On day nine, the remaining piece of the cord detached from the naval. The process was successful. It didn't cause any infection or discomfort to the baby."
This isn't the first time Fisher has tried something unconventional during her pregnancy. A video of her ECV procedure went viral last month, when her doctor used his hands to firmly apply pressure to her abdomen, coaxing her breech baby to turn into a head-down position.
The American College of Obstetricians and Gynecologists (ACOG) okays closely-monitored ECVs between 36 weeks and 38 weeks (baby may turn on his own before then), unless you're expecting twins, have placental abnormalities, or if there are concerns about the health of the fetus. When it comes to Fisher's choice of a lotus birth, however, ACOG hasn't yet given that practice an official stamp of approval. The organization did officially recommend delayed cord clamping whenever possible last year, but that delay is only 30 seconds to a minute after birth—not days. During that time, the umbilical cord will continue to pulsate, giving baby nourishment and oxygen from the mother while he or she learns to breathe.
Baby Asher had five whole days to receive that nourishment. But whether or not that made any difference is likely subjective.
"I'm not trying to force my journey or experience on anyone," Fisher says. "But I shared because in all of the mysteries of reproduction and childbirth, this made sense to me. And fortunately, as I'd anticipated, it worked itself out beautifully."