11 Creative Hacks for Designing a Small Nursery
Tight on space? No sweat. A New York City designer shares her best tips for creating a small but stylish nursery.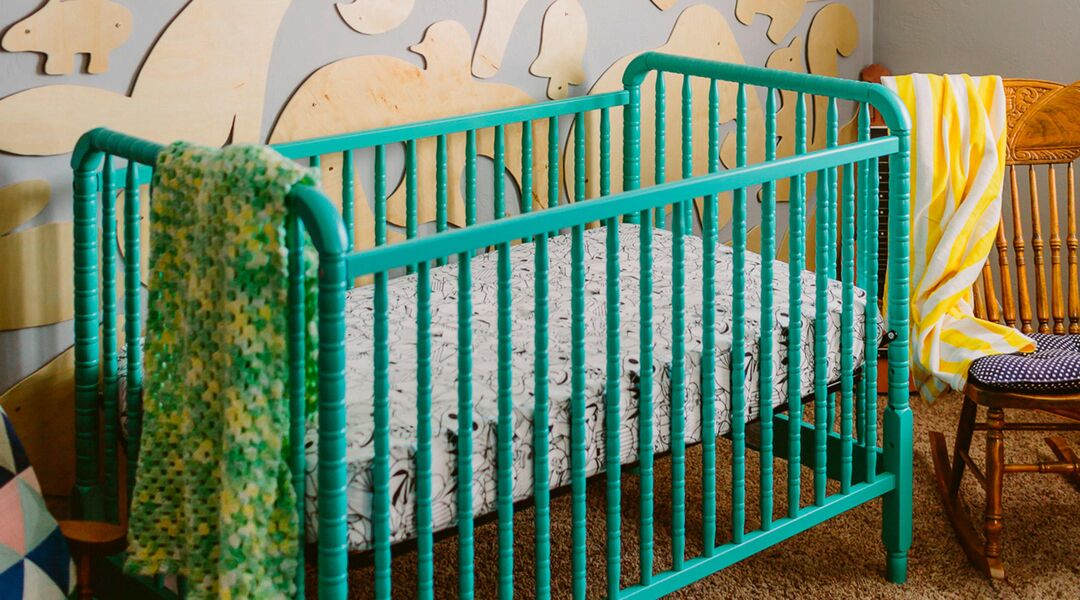 It's tempting to dream of a chic, sprawling nursery—but not all of us have a lot of space to work with when designing baby's room. Reclining gliders and motorized baby swings might sound nice, but they're just not going to fit. Don't freak. There are plenty of ways to work within the confines of a tight space and still get the nursery of your dreams.
In fact, sometimes smaller can be even better. "I think it keeps your life less cluttered," says Lauren Behfarin, a New York City-based interior designer. "With big spaces, it's easy to collect so many toys, and then kids end up just playing with a cardboard box. When you're forced to preserve a clean atmosphere, you end up needing less." Here, we got Behfarin to spill on her best hacks for creating a small but stunning room for baby.
Convert a Dresser into a Changing Table
To avoid cluttering your nursery with a bunch of furniture, "look for multipurpose items," Behfarin says. "These days I've been doing a lot of changing table pads on top of low dressers or little tables—something with storage underneath. Having a dedicated changing table isn't as necessary as it used to be, especially for tight spaces."
Image: Courtesy FS Baby
Store Diapering Products in a Hanging Organizer
When designing a super-small nursery, some people decide to forego a changing station entirely and simply change baby's diapers on their bed. In that case, you won't have a table or dresser to store your diapering essentials in. Instead, pace a soft hanging organizer on the outside of the crib—it'll keep everything nice and neat, and nearby.
Opt for a Mini Crib
Tight on space? Skip the full-size crib and go for something that can fit in a little nook. Luckily, there are plenty of adorable mini crib options out there—you can even find some that transform into toddler beds!
Repurpose a Chic Chair
Yes, a chair will take up valuable floor space, but it's still good to have some sort of seating, Behfarin says. The solution? "A lot of parents are switching from the glider to a more adaptable chair. Try pulling a chair from the living room into the nursery," she suggests. "Unless you have a lot of extra space, gliders are kind of fading from popularity. Plus, options for cool modern pieces aren't always available with gliders." To maximize convenience, find a comfy, compact chair that swivels, so you can turn to face all corners of the room.
Wondering if you'll need a matching footstool or pouf? Behfarin says no. "All those things take up floor space, so I try to stay away from them."
Play with Patterned Wallpaper
"Sometimes people think they shouldn't put up any wall color in a small nursery, but I find that to be a common misconception," Behfarin says. "Painting a nook identifies a space and makes it feel warm. I always love to use some sort of wallpaper or wall decal to get some color or pattern on the walls." So should you go light or dark? Large-scale print or small? Behfarin says there are no rules—have some fun experimenting!
Paint Furniture for a Pop of Color
Hesitant to stray too far from neutrals? "If you're scared to incorporate color on the walls, do it via the crib or a chair," Behfarin suggests. A splash of color on a single piece of furniture will help brighten the space without overwhelming the senses.
Use Different Hues of the Same Color
When designing a small nursery, one of Behfarin's go-to tricks is to work with various tones of the same color. "Don't make every blue light blue, or every pink the same light pink. Make one a dusty pink and one a magenta," she says—it'll give depth to an otherwise shallow space.
Store Items Underneath Furniture
"Small spaces tend to look more cluttered quickly," Behfarin says—which means adequate storage is a must-have when putting together a small nursery. Maximize your space by sliding bins and boxes underneath the crib, dresser, chair and any other available furniture. Better yet, look for pieces that come with built-in storage options.
Hang Fabric Shelves for Extra Storage
"People often go for cute open baskets and bins in the nursery, but that can look messy fast, especially in a small space," Behfarin says. "Don't get frilly boxes; keep it clean and easy to get to." One of her favorite solutions? Soft shelves you can hang in a closet. They offer additional storage without using up precious floor or wall space, and you can hide any untidy tidbits behind the closet door.
Place Shelving at Kid Height
When eyeing a tight space, people often think shelving isn't a must-have, but Behfarin finds that it's important. "Even if babies aren't playing with toys just yet, you'll eventually need a place to put them," she says. Tip: Remember to install shelves at a low, child-friendly height, so your kids can ultimately pick out books and toys by themselves.
Image: Jamie Grill / Getty Images
Leave Space for Playtime
Between the crib, dresser, chair and toy shelves, it's easy to use up all your floor space in a small nursery—but Behfarin encourages parents to leave some room for children to spread out and play. "Kids do best with open space, even when they're infants," she says. "Put a play mat on the floor and let them learn to crawl. My toddler kids are always bring out their Legos and expanding their space."
Was this article helpful?
Pregnancy Week by Week
Select your week below to track each stage of your third trimester.