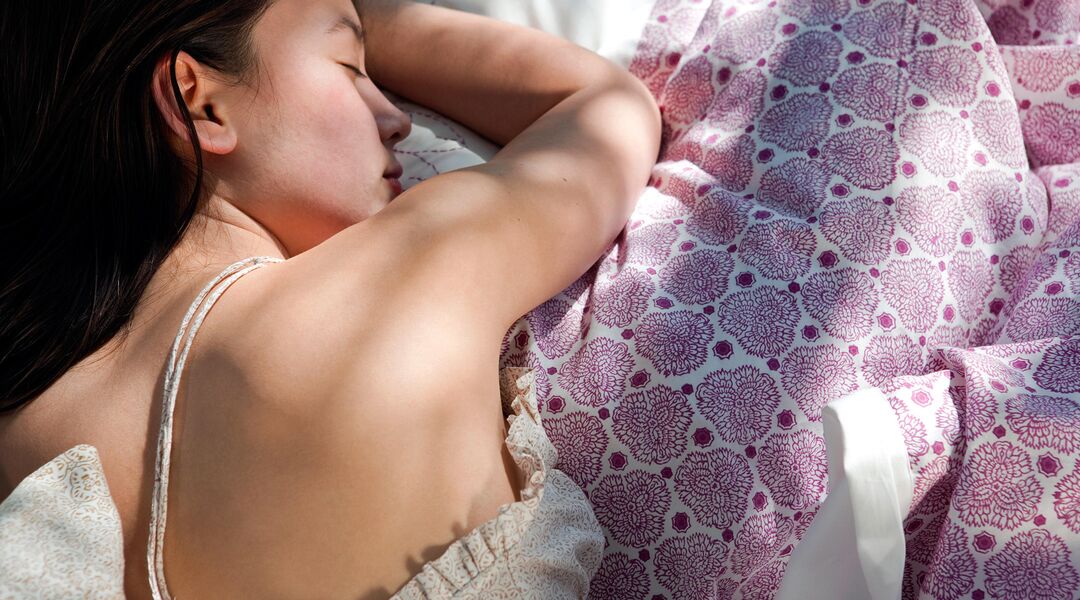 Anna Davies
Contributing Writer
What to Expect During Your C-section Recovery
Healing from surgery while caring for a newborn can be tough. Here's what's likely in store for you and how you can get back on your feet faster.
Let's get one thing straight: When it comes to childbirth, there's no easy way to have a baby. But if you had a c-section, whether it was planned or unplanned, the postpartum period may prove even more challenging: After all, you're not only caring for a newborn but also healing from abdominal surgery. C-section recovery feels different for every mom—and can even feel different from one birth to the next—but there are a few things you can expect to encounter while you recuperate.
With a new baby to care for, you'll probably be anxious to get back on your feet—but recovery after a c-section can take some time. "In general, full recovery from a cesarean section is about six weeks," says Kecia Gaither, MD, director of perinatal services at NYC Health + Hospitals-Lincoln in the Bronx, New York. You're likely to feel the brunt of it during your hospital stay (women are typically in the hospital for two to four days following a c-section). But even once you're home, c-section recovery can be both physically and psychologically complicated: Aside from self-care, you need to tend to the tiny newborn. "I tell new moms to honor their own recovery and make sure to get as much help as possible," says Erica Chidi Cohen, a doula and author of Nurture: A Modern Guide to Pregnancy, Birth, Early Motherhood and Trusting Yourself and Your Body."For a lot of women, a cesarean may be their first surgery. It's important to listen to a doctor's advice and not overdo things."
C-section recovery timeline
Here's what you'll likely be able to do during your c-section recovery, and when:
Breastfeeding
You can breastfeed right after you give birth or as soon as you feel comfortable. The pain medication you received during the procedure won't interfere, but picking up baby can be a little painful after a c-section. "Lifting a baby out of the bassinet may be a challenge, but sitting and holding a baby in a chair and nursing isn't," says Samantha Feder, MD, director of ambulatory obstetrics and gynecology at Mount Sinai West in New York City. When you're ready to breastfeed baby, ask for assistance from the nurses or your partner. A positioning pillow that supports your back can make things easier, since stretching your abdomen will hurt. You'll also want to experiment with different breastfeeding positions that don't put a lot of pressure on your surgical scar. Two good options include the football hold (there's less rubbing on the incision) and the side-lying position (so you can rest your tired body while baby feeds).
Walking
You won't be pacing the room rocking your newborn right after delivery, but you should be able to get out of bed and walk around within a day. Why the wait? First, the numbing medications have to wear off. Second, before your c-section got underway, a catheter was inserted so your bladder wouldn't be damaged during delivery. That's usually removed the morning after surgery. And some women, especially those who had a long labor before undergoing a c-section, need extra time to regain their energy. In an uncomplicated cesarean section, most patients are walking, and encouraged to walk, within 12 to 15 hours of surgery. It may hurt a bit at first, but getting on your feet is important for your c-section recovery: It helps body functions (especially your bowels) get back into the swing of things and lowers the risk of any post-op complications, like blood clots forming in the legs.
Going to the bathroom
When you're ready, your doctor will likely want you to take a stroll to the bathroom. Once you're there, don't be surprised if you see some postpartum bleeding (more on that later). You can also expect to encounter some constipation and gas pain. "As the bowels start to work normally again, women may experience severe gas pains. They're probably one of the worst pains on earth," Gaither says. You might even feel them as high up as your shoulders, since distended bowels can irritate the diaphragm, and that pain can extend to the shoulders. "For me, the gas pain I felt was worse than labor pains," says Vicki, mom of a 4-year-old. Your OB may prescribe laxatives to make bowel movements easier for the next few weeks; drinking lots of fluids and eating plenty of fiber-rich foods will also help.
Eating
Typically, the day after your c-section you'll be allowed to progress from clear liquids to eating solids—that is, once your bowel function has returned to normal. But you may want to hold off on that cheeseburger for a while. "It's best to start out with relatively bland, non-greasy foods within the first few days after surgery," Gaither says.
Exercising
Initially, your doctor will probably advise you not to carry anything heavier than your baby, or about 10 pounds. As for heavier weights and workouts, doctors will generally give the all-clear after six weeks, assuming an examination shows your c-section recovery is on track, says Sarah Wagner, MD, FACOG, an ob-gyn at the Loyola University Health System in Maywood, Illinois. But that doesn't mean you should stay sedentary until then. Light walking (to your comfort level) is key for bouncing back. Pay attention to your body and talk to your doctor if things seem extremely uncomfortable, even after she's given exercise the green light. "I began light jogging at six weeks and still felt sore," says Ellen, mom of a 2-year-old. "I listened to my body and knew to take it easy, but I wish I had known it may take longer than six weeks to exercise more vigorously."
Having sex
You can typically start having sex again after a six-week postpartum visit, says Gaither. Remember to listen to your body, go slow and try positions that don't put pressure on your incision.
Bathing
How your incision was closed will determine when you can bathe. While showers are fine—just pat, don't scrub, your incision—you should hold off on taking a bath for about a week if your wound was closed up with staples, Gaither says. But if it was sewn up, you're free to enjoy a soak in the tub right away.
Vaginal bleeding after a c-section is totally normal. "I wish someone had told me about the bloodbath that happens post-surgery, once you stand up," jokes Lisa, mom of a 2-year-old. While you shouldn't expect to see excessive blood, some bleeding after a c-section is actually a sign that all is healing as it should be. "The bleeding is part of the healing process of your uterus," Wagner says. When the placenta separates from the uterus, it leaves several blood vessels open, which bleed into your uterus (this happens after a vaginal birth too). As your uterus shrinks back to pre-pregnancy size, it'll close off the blood vessels, and the blood should become lighter and less red over time. If you're not bleeding, or if you're bleeding through a pad every few hours several weeks after birth, let your doctor know.
What shouldn't bleed is your incision, Gaither says. It generally takes about four to six weeks for the wound to fully heal, and during that time it'll likely be tender. If the skin from your belly folds over the incision, put a cloth pad on it to keep it from getting sweaty. Call your doctor if you develop a fever or if the skin surrounding the incision turns hard or red, starts oozing green or pus-colored liquid or becomes painful, as these could be signs of infection.
You probably expect some swelling around the incision, but swelling in the face and extremities is something many new moms aren't prepared for. "I wish I had known my feet and ankles would swell to four times their size," Ellen says. "I learned later that this is common, but it was still really disconcerting because it was unexpected." Swelling after a c-section is completely normal—chalk it up to the IV fluids during surgery and those post-pregnancy hormones—and should go down after a week or so.
As your body recovers, keep track of anything that feels strange, painful or otherwise abnormal. For example, an incisional hernia—where you feel a painful bulge around your scar—can happen post-surgery. This occurs when the muscles in your abdomen don't heal properly, resulting in a small gap that the lining of your abdominal cavity pushes through. Talk to your doctor if you suspect a problem—small hernias can usually be treated with a girdle-type garment that applies pressure to encourage healing.
Newsflash: A big part of c-section recovery is managing pain, and you don't get a gold star for avoiding pain meds. Experts encourage you to take whatever they're prescribed, on schedule—even if you don't think you need them just yet. After all, the pain may not come right away: Medications delivered through the epidural ease any pain immediately after delivery, but once those wear off, you'll likely need an oral anti-inflammatory medication. It will help with not only incision pain, but also the gas discomfort and uterine cramping most new moms experience after a c-section. (By the way, all moms feel cramping as their uterus contracts to pre-pregnancy size, but a cesarean scar makes things all the more uncomfortable.) Plus, hormones released from breastfeeding can trigger the cramping. "Don't be stoic," Wagner says. "If you can keep the pain at bay, it's unlikely to get out of control. But if you let it go, it'll hit like a ton of bricks."
Even if you're taking your meds and feeling good, don't overdo it. "I wish someone had told me pain meds don't make you superhuman," says Colleen, mom of 4-month-old twins. "Because I was taking medication, I thought I was fine, [but] that wasn't the case." Keep your doctor in the loop on how you're feeling.
We quizzed doctors and new moms who've been through it all on what works and what doesn't when it comes to speeding up the c-section recovery process. Here are their top tips.
• Prep before your surgery. If you're having a planned c-section, Cohen recommends preparing your house as much as possible beforehand. "Tall beds may be uncomfortable, and stairs may be tricky," she says. Deciding where you'll sleep and store your necessities can go a long way in making your c-section recovery easier for the first couple of weeks.
• Take it easy. It may be the single piece of advice everyone, from your OB to your mother-in-law, is on board with. Rest is essential to your c-section recovery. That said, "take it easy" doesn't mean "lie in bed." Short, easy walks around the house, yard or neighborhood block can help you heal.
• Consider a belly band. "Cesarean section binders function to keep your abdominal musculature supported," Gaither says. "They're not necessary, but some women feel more comfortable with some external support." But while there are moms that swear by them, others find them itchy, constraining or ineffective. Your hospital might offer options for free, so ask your doctor about them. "[My hospital] gave me a belly binder, but they only gave it to me because I asked," says Nadia, a mom of three.
• Drink plenty of water. Fluids can help minimize constipation and keep things moving.
• Get some sleep. "It's so important to remember that in order to be a great mom, you have to take care of yourself," Cohen says. "That means if someone else can hold the baby and you can rest, then absolutely do so."
• Accept help. Whether it's hiring a postpartum doula, a night nurse or taking a family member up on their offer to stay the night, do it. "I always tell new moms to accept the help that's offered," Cohen says. Be realistic about your needs during your c-section recovery and speak up when you could use an extra hand.
• Talk about your feelings. The hormonal roller coaster after any form of childbirth is real, but it can be especially rough if a c-section wasn't in your original birth plan. "You could potentially have mommy guilt about not delivering vaginally. I definitely did," says Jennifer, a mom of two. "Some other moms may try to make you feel bad about it. Don't listen!" If you're feeling sad, helpless or hopeless, or having feelings of guilt or anger, talk with your doctor, who can help come up with the best course of treatment.
Photo: Erica Shires / Getty Images