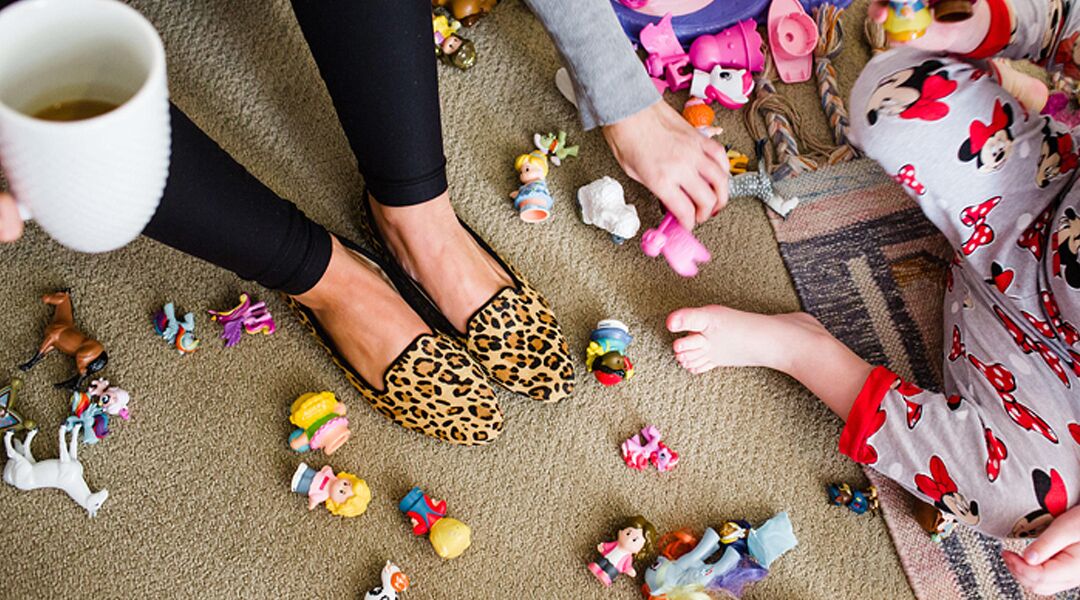 Mallory Fitzsimmons
What I Learned About Dressing Baby (and Myself) After Giving Birth
Follow these easy wardrobe tips from a mom who's been there.
The Bump and Dreft purtouch present Gentle Touch, a sponsored series with tips for treating newborn skin and clothes with tender, loving care. To learn more about why plant-based detergent is a gentle choice, visit Dreft.com.
With her life and style blog Style Your Senses, Mallory Fitzsimmons' main goal is to help women find their confidence through affordable and relatable fashion. She's "mommy" to two young girls and calls Charlotte, North Carolina home.
Thinking back to my prebaby expectations always makes me giggle. When our first daughter arrived, I stocked her closet with smocked dresses, frilly outfits and the perfect bows to match. I also expected I'd get right back into my prebaby clothes and usual heels, all while toting around our cute babe like the latest accessory. Doesn't that make you laugh? I knew a lot of things would change postbaby, but I didn't realize I had baby's (and my) entire wardrobe wrong.
Photo: Mallory Fitzsimmons
With my daughter's clothes, all the frilly outfits and nice dresses ended up staying exactly where they started: hanging in her closet. I quickly learned that those pieces were cute and all, but virtually nonfunctional for a baby's life. And I severely underestimated the amount of laundry that I'd be doing. I needed something that would withstand lots of washing, and be just as comfortable for her to play in as it would be to nap in (because we all know those two things can happen within two minutes of each other). Luckily, it didn't take me long to realize that footie PJs are just as precious and much more functional. And with a detergent like Dreft purtouch that's 65 percent plant-based and free from dyes, I know it will keep her clothes clean, but more importantly be gentle on her skin.
When our second daughter was born, I didn't make the same rookie mom move, and instead had some comfy outfits washed and ready to go. I made sure to have all of baby's clothes prewashed in Dreft purtouch. Dirt, excess dyes and processing chemicals can linger on baby's clothes even when they're brand new. So, I washed sizes newborn to three months and folded it all in her closet so that everyone helping us out could easily find them. Since her skin has been sensitive from the beginning, another trick I put into action was buying her own small laundry basket for all her dirty clothes. Whenever it's full, we do a dedicated load of laundry with just her baby items, so I can ensure everything is washed in Dreft. I rest easy knowing it's gentle enough for her delicate skin, and that she's comfy and cute in her versatile loungewear.
Photo: Ashley Louise Photography
When it comes to my wardrobe, I've never been one to live in yoga pants and sweatshirts, but caring for a newborn makes it necessary to have comfortable and washable clothes that are still flattering and functional. Enter loungewear. This was a new concept for me, as I never thought clothes could actually be cute and comfy, but still flattering and babyproof all at the same time. I slowly but surely updated my closet with pieces that could take me from a slow morning at home with baby to errands around town, playdates at the park, and back home to relax and cook dinner. It took some time to hunt down the pieces that were flattering enough to be worn out of the house, but also functional across my entire day. I highly recommend investing in a few pairs of great fitting leggings, awesome tunic sweaters for the fall and a few good layering pieces to top it off. It was often hard for me to feel confident postbaby, but it was nice knowing I had pieces in my closet I felt good in and that would work for my day.
Photo: Mallory Fitzsimmons