Natural Birth 101
You're considering having a "natural birth." But what will that actually mean for you? And what if things don't go as planned?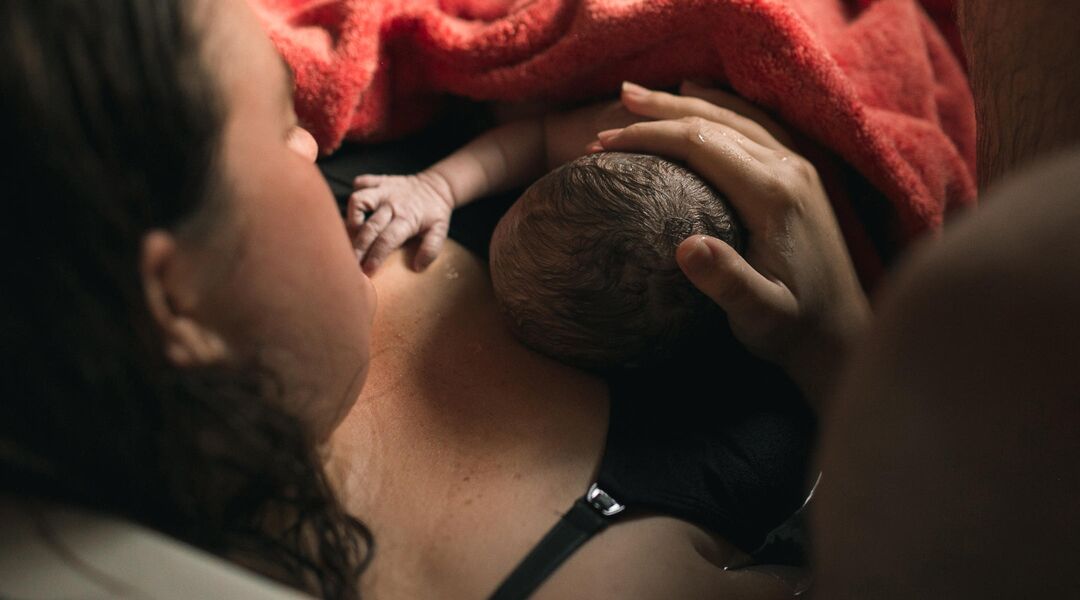 What it is
To make things super-confusing, the term "natural birth" has two accepted meanings. Traditionally, any nonsurgical, vaginal delivery can be considered natural. But these days, a natural birth implies one that is drug free and "doesn't use any med-ical interventions to help speed up labor or delivery," says Shelly Holmstrom, MD, associate professor at the University of South Florida College of Obstetrics and Gynecology in Tampa, Florida. That distinction will play a big role in your birth plan.
Who's doing it
Women having a natural birth are in the minority but not by much. Only about 60 percent of women who have vaginal, singleton (one baby) births get epidural anesthesia. Those going the natural route want to avoid drug exposures to their baby, says Christina Sebestyen, MD, FACOG, an ob-gyn at OBGYN North and Natural Beginning Birth Center in Austin, Texas. "They're people who have a holistic mind-set. It may also be about the sense of pride and empowerment."
"After my natural birth, I was up on my feet quickly and felt very good the next morning," says Rachel O. "For anyone considering it, I'd tell them, 'You can do this. Your body was designed for this!'"
What doctors think
Some doctors see the epidural as standard practice and wonder why you wouldn't want it. "There are providers who find it easier to care for a mom with an epidural. They may shy away from natural birth because it's more intensive. The mom moves around more and needs a team to support her," Sebestyen says. So it's imperative you find a doctor or midwife who's on board with your choice.
How to prep
The key to a successful natural birth is education, so start with a general class. "Hospitals can be a great resource to learn about natural birth," says Tiffany Albinger, a doula and co-owner of Embracing Labor in San Diego. You'll get the ins and outs of what happens during birth and techniques to help you cope with pain. "You'll meet with other women learning about natural birth, which can make you feel supported," she says.
Then, dive deeper and explore childbirth methods like HypnoBirthing, Lamaze and The Bradley Method. These classes will give you even more tools to help you manage labor pains — and you'll want as much experience with this as you can get. Practice what you learn at home with your partner.
"I mentally prepared with HypnoBirthing tracks and videos," says Paula P. "I also read positive birth stories and learned relaxation and breathing techniques."
Seriously consider hiring a doula so you know you'll have an extra, experienced labor expert to help you through the process. "My doula was with me during labor and suggested things that helped, like hopping in the shower and using nipple stimulation and squats to help speed things up," says Maya B.
And remember that being physically fit will also help. "I work out, do yoga and stretch daily to get my body ready," says Reginah C.
Where to deliver
Also important is where you give birth. It can be at home, at a birthing center or at a hospital. Today, only about 1.3 percent of births take place outside of a hospital — that number has been on the rise since 2004. There's no wrong location choice, as long as the people who'll be around you are on board for your desire to go natural, and that the room has plenty of square footage. "Allowing mom the space to move through the labor process is really important," explains Linda Perry, a midwife in the New York City area. Moving around and putting your body into different positions can help you manage your pain and get baby in the right position for birth.
Think hard about your priorities: "Many people prefer to be in a hospital setting because they want the safety net of Western medicine, in the rare case something goes awry," Sebestyen says. Birthing centers may be part of a hospital, either a dedicated floor or a freestanding building nearby, but, Sebestyen says, they feel more like a home. "They're a good choice if you want a home birth experience but don't like the idea of the messy things happening in your house."
It's common for people to have negative connotations with the hospital setting — for example, if a family member has been sick or passed away there. At home you might feel more comfortable and relaxed. "There are women who feel safety at home — it's their sanctuary; there are no restrictions on how many people can be there or whether you can eat and drink," Sebestyen notes.
There are financial considerations as well. Hospitals are the highest-cost option, but your health insurance may cover all or most of the bill if the hospital where you deliver is considered in-network. Birthing centers carry a much lower total price tag but may not be covered by your health insurance, or you may have to go through a reimbursement process. Home birth is the cheapest option, but the midwife and doula may only accept cash.
Ways to get through it
There's no way to sugarcoat it: Labor is painful. But that doesn't mean your body can't handle it. "Remember: People run marathons without epidurals," Perry says. And yes, experts relate the pain of childbirth to that of running a marathon. Sebestyen says, for some, using endurance to work through pain is scary, and for others, it's exhilarating, like with running a long race. "It's empowering for women to feel that intensity and work through it, and then look back and realize how amazing they did," Perry says. It won't be easy, but your finish line is your baby.
Remind yourself that it's okay to feel pain — it's there to bring you your baby. "Get as much rest as you can early on — sleep, snack and hydrate — and try to relax through each contraction," says Jackie R. "I remember panicking as the contractions built, so I wasted energy fighting it rather than just going with it, because each contraction will end."
Use the methods you learned at childbirth class, such as breathing, visualization and positioning. "If you take advantage of the relaxation that can happen during the break between contractions, it becomes a manageable thing," Sebestyen says. It doesn't mean just following one specific breathing pattern or movement. "You need a whole toolbox of methods during labor to figure out what works best for mom," Albinger says.
"Try massage and change positions frequently to keep labor moving," Albinger advises. Squatting or sitting on an exercise ball can help baby make his descent and may accelerate the birthing process. Find a focal point in the room, such as a picture on the wall, to center on during painful contractions. Some moms find that a TENS unit — an electronic nerve-stimulating machine — or acupuncture can help.
Water also can be very relieving for women in labor, so many moms-to-be order portable birthing tubs. If you're at the hospital, sit on your birthing ball in the tub.
In advance, flesh out which methods you're willing to try and have them all at your disposal on that day. "Having things to try along the way gives the mom hope and helps build her stamina," says Sebestyen. "Each time you try something new, you gain another hour or two of progress during your labor." So keep busy!
Most important, you'll need positive reinforcement from your support group. Having them there, coaching you on, can really help you through all the rough stuff.
How to deal if birth doesn't go your way
_Be open-minded _
Even if you're hoping to go as holistic as possible, be open-minded. If a doctor or midwife suggests introducing drugs, they're usually looking out for mom and baby.
_Imagine a worst-case scenario _
Discuss with your doctor and your partner all of the what-ifs in advance and plan out your decisions, so you're mentally prepared for (almost) anything that could happen.
_Keep baby's health your priority _
"Having medical interventions doesn't mean that you failed or that you did a bad job," says Albinger. "That was the way that baby needed to be born, and as a mom, you made that successful."
_Mourn and move on _
"It's okay to be sad about the loss of the birth that you were planning," says Albinger. "But you used your power in making really great and well-informed decisions, no matter the outcome."
Please note: The Bump and the materials and information it contains are not intended to, and do not constitute, medical or other health advice or diagnosis and should not be used as such. You should always consult with a qualified physician or health professional about your specific circumstances.
Plus, More from The Bump: