Checklist: Maternity Fashion
Get the most mileage out of your clothes for the next nine months.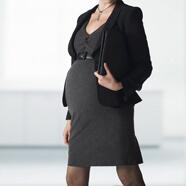 [] Jeans Forget skinny styles and grab your roomiest pair for the first couple of months.
[] Blazer Button up to hide your growing bump, or wear it open to let your belly breathe.
[] Tank top You can rely on that stretchy shirt from your closet until the day you pop.
[] T-shirt Slide by in a larger-size shirt from your own stash for the first few months.
[] Cardigan Be ready for unexpected hot flashes. A basic button-up is easy on, easy off.
[] Skirt Turn to a pencil skirt for a slimming style even when you start feeling bigger.
[] Little black dress A style with an Empire waist won't restrict your growing bump.
[] Husband's t-shirt Steal one of his XL tees for some reprieve in the final stretch.
[] Black pants A side-zip is easy to leave open unnoticeably.
[] Maternity jeans Work a dark wash (with a stretch panel) for day into night.
[] Wrap dress Adjust the dress to fit a fluctuating waistline pre- and postbaby.
[] Maternity tank top Cover up unbuttoned pants with extra-long styles.
[] Maternity t-shirt Show off your great new cleavage with a V-neck style.
[] Maternity cardigan Get a neutral hue, like black, that you can dress up or down.
[] Maternity skirt Highlight your thinnest assets (your legs!) with a short hemline.
[] Big black dress Take the maternity route and your dress won't ride up in front.
[] Under-belly black pants Don't reveal any seams with your snug tanks and tees.
[] Maternity black pants Hide your belly and keep pants up with a wide panel.