7 Registry Items You Need and 4 More You Can Forget About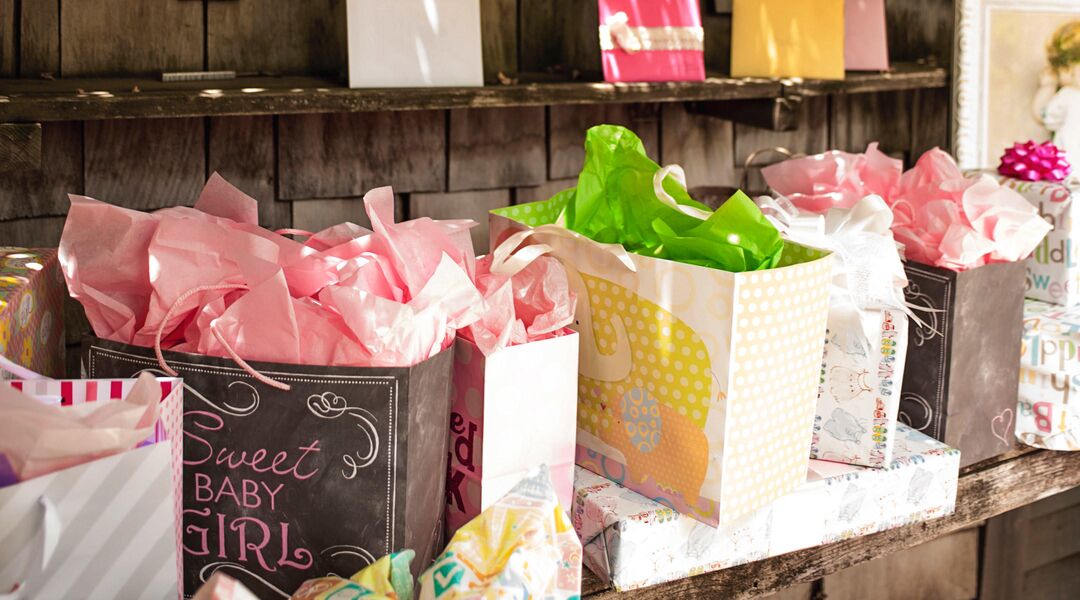 After making it through the first year, I can now look back on that inaugural visit and laugh. These days, I'm in Babies R Us approximately once every 13 hours, and I've had the layout of the infant section tattooed on my left forearm so I never need to ask where to find pouches of organic prunes or Dr. Brown nipples.
There are items that, urged by other moms, I registered for, only to have them languish in their packaging for months and months. Other items were procured in the first months after our daughter was born and were immediate winners.
Learn from me and be sure to snag the following:
1. A continuous sound machine. The "continuous" part here is key: Most popular baby sound machines shut off after 15, 30 or 60 minutes. In the beginning, we relied on the Sleep Sheep and the instant the rain stopped drizzling or the ocean waves stopped crashing, our baby stopped napping. My mother-in-law suggested the Sound Oasis, which you can set to a "Continuous" setting. Get one.
2. Baby Einstein Take Along Tunes. A veteran mom (twins plus one on the way at the time) gave us this and promised us we would soon come to rely on it. I have since bought myself a 20-inch lightweight chain and looped it through the multicolored plastic handle so I can wear it around my neck like some sort of protective anti-wailing amulet. In the beginning, when the babe was freaking out in the backseat of the car and I had no idea what to do, I would switch on Baby Einstein and hurl my arm backwards, holding it inches from her face…and, like magic, the crying would stop. I only wish it had a continuous function (See above.)
3. My Brest Friend. This thing basically became a postpartum physical appendage. I loved it so much more than the Bobby, because the Brest Friend Velcros around your waist, acting almost like a lumbar support (and believe me, considering a new mom slouches more than a preteen boy hunkered over his Xbox 360 as he embarks on Hour 8 of Madden NFL, you will need lumbar support.) I wore My Best Friend pretty much 24-7; the look was completed by a half-open nursing tank and a Nick Nolte mug shot hairdo. Warning: You will come to associate the sound of Velcro with your baby crying for food, and the next thing you know, you'll be letting down at the gym when the dude next to you straps on his weightlifting gloves.
4. Nose Frida SnotSucker. As Shelleybean3333 put it on amazon.com, this is "the grossest thing you will ever love." While pregnant, I scoffed at the notion of sucking boogers out of an infant's nose. Then, I tried that blue rubber bulb and realized it was like writing a term paper using the Dewey Decimal System when the internets are just a click away. Sure, the deep, sustained inhaling will make you sound like you are an extra in Dazed and Confused, but much like picking scabs or popping zits, you will love the rush of achievement that comes from clearing your kiddo's nasal passages with nothing more than a good, strong inhale.
5. The First Years Breastflow Milk Storage Organizer. If your supply is good, once you start pumping, you will quickly begin filling bags to store. These bins squeeze the bags so they freeze flat and take up less room, then corral them so you don't have breast milk packages obscuring your frozen pizzas or fighting for space with your ice cream.
6. Puj Hug Hands-free Hooded Infant Towel. Sure, it's great if you have a partner nearby to help bathe the bambino, but sometimes baby decides to squeeze a packet of Justin's Almond Butter into her palms and then rub her fingers through her hair when your partner is still at work. (Not that this exact situation happened or anything. Twice.) The biggest trick: How to extract a tiny, squiggling wet human from the bath and transfer her into a towel without dropping her or drenching yourself. Enter the Puj Hug. Simply connect the two tabs attached to the towel behind your neck with the hood facing out. You can now bend over, grab Squirmy McGee to your chest, then give the towel a quick tug to release it so it can quickly wrap it around the baby. (Note: I have not actually tried the Hug, as it's just hitting shelves as we speak. But it sure would have come in handy on Tuesdays nights when my husband plays basketball and bath time is just me, baby, and Pandora Sesame Street.)
7. Wine. I wish I had registered for wine. Lots and lots of wine — after baby's arrival.
Things you can do without:
1. Nail clippers. Save yourself $7 and use what you have at home.
2. Wipe warmer. Unless your nursery is located inside an igloo, Junior's tush will not get frostbite from room temperature wipes.
3. Mittens. Much easier to use long-sleeved shirts with mitts attached.
4. Sterilizing bags. We used these starting around month 2, when my husband began feeding her a bottle at night, then quickly weaned off of them. By 10 months, I was letting her eat gooey wet banana slices off of the floor in Starbucks — kidding!
What were your must-haves? What did you skip?
Pregnancy Week by Week
Select your week below to track each stage of your third trimester.
Sign up for weekly updates to help you on the road to parenthood!